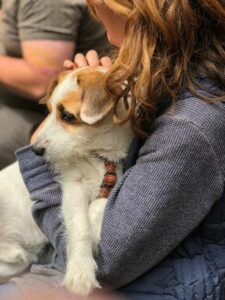 Conferences, whether in-person or virtual, can lead to long days and information overload. When attendees constantly move from session to session, they don't have an opportunity to fully absorb the material presented. A study from Microsoft shows that back-to-back meetings cause a decrease in focus and engagement.
To prevent session burn-out, build in time for your attendees to take a brain break! Putting an emphasis on mental health and information retention can set your event apart. Our expert event professionals have outlined five different types of activities to incorporate into your next conference.
Puppy Petting
Our top crowd-pleaser is a puppy petting station! Research from Washington State University has found that petting a dog for 10 minutes drastically reduces stress hormones in the body. This not only has mental benefits but can create a lasting memory for attendees and generate buzz around the event.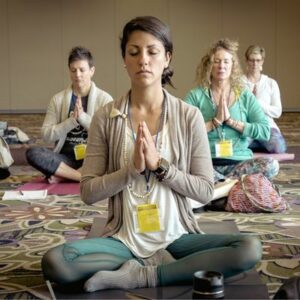 Meditation Station
According to Psychology Today, "movement is medicine." Incorporating a space where guests can gather throughout the conference to stretch or unwind in between sessions can greatly impact information retention at your event.
Cater to different activity levels with a meditation lounge or challenge your guests with a yoga class. This is a great option for virtual attendees as well! Host a "chair yoga" session to encourage movement or start each day with a guided meditation.
Building this time into your conference schedule shows a prioritization of mental health and attendee well-being.
Gaming Session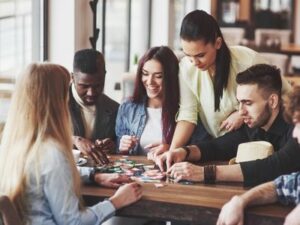 One of the most engaging activities to integrate into your event is a gaming component. Host a trivia challenge or scavenger hunt to get people interacting with a little friendly competition. Our team creates game cards or passport booklets that outline key areas of the event or destination for people to check out. Consider offering a stamp at each session or activity to encourage attendance and offer a prize to a few lucky winners who complete the game book.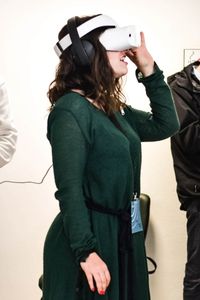 Sponsored Activity
Leverage your sponsors to create an exclusive experience for your guests. Tailor the activity to your event theme or your sponsor's branding. For example, a sponsored virtual reality booth can create a memorable and interactive experience, while giving sponsors the unique opportunity to network with guests. Not only do your attendees get a break from the conference material, but your sponsor has brand visibility and direct access to attendees.
From prize booths to nitrogen ice cream stands, your options for sponsored entertainment are nearly endless!
Off-Site Activities
Take advantage of your event's location and plan out group activities to immerse attendees in the destination. For example, host an off-site tour of local landmarks like museums or iconic streets.
Mixing tours or activities into your conference's programming builds excitement for your guests and keeps them motivated throughout the day. With the return to in-person events, these activities can be a big draw for attendees who are looking for an immersive experience at an event. This could be the deciding component that draws in-person attendees in, rather than them opting for virtual.
Mental health matters and event professionals have a responsibility to provide attendees with a well-rounded experience. Prioritizing brain breaks, whether virtually or in-person, can improve information retention and overall attendee experience. Looking to incorporate one of the above ideas into your next event? Contact us today and we can help.