For some, gift giving is a love language. What better way to show your appreciation and dedication throughout the year than with a simple gesture of thanks. The art of gift-giving is more than selecting an item to share — it's about the sincerity and thought behind it. The best gifts are the ones that feel hand selected and made just for you!
Whether it's a gift for a client or your staff, knowing a person's preferences allows you to pick a gift that will leave a lasting impression. Check out our team's gift-giving guide for the holidays: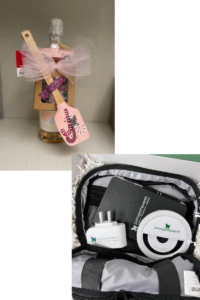 Are you looking for tailored staff or client gifts you can send all year round? Our team's go-to gift is a bottle of champagne with a box of sweet treats! These gifts are highly customizable and can be tailored to each person. If alcohol isn't the right gift for your recipient, consider a self-care package, assorted treats or a cooking set.
These days, it's all about staying connected. With hybrid events on the rise and more people looking for remote opportunities, a tech gift is something that your recipient is guaranteed to use! Including items like portable ring lights, USB adaptors, or travel cable cases is an excellent way to incorporate the idea of "staying connected" into your gifts.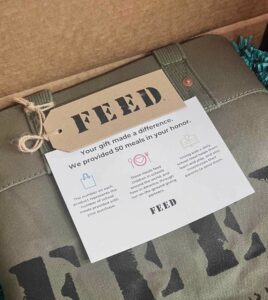 When selecting a meaningful gift, knowing what that person truly values is essential. For those who deeply connect with corporate social responsibility, give a charitable donation in their name! This doesn't have to be your standard donation certificate. Numerous companies offer products that benefit philanthropic endeavors. For example, FEED is an accessory company that sells products ranging from purses to home goods. Each item sold provides school meals to the most vulnerable communities across the globe. So not only does your recipient get a nice gift, but its impact is also felt worldwide.
If you are struggling to find a gift for that one client who seems to have everything, consider giving them an experience! Whether a virtual paint & sip or an in-person sushi class, this gift helps you stand out from all the others. This gift isn't just for clients! You can offer your employees these as team-building opportunities as well. Unite in-person and remote staff with an online mixer or book an escape room for your team. Offering an experience opens a door of opportunity for both you and your recipients.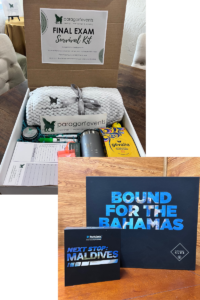 Once you select the perfect gift, remember, it's all about the presentation! From branded wrapping paper to custom boxes, the options are endless! Great packaging helps reinforce your brand. The more your audience sees your branding colors, logo or slogan increases their brand recognition! Additionally, putting thought into your presentation will demonstrate a high level of care and attention to detail.
Take the Next Step
Paragon Events understands the importance of gifting – even beyond the holidays! Our team can provide product sourcing for on-site event gifts or pre-trip gifts to build excitement for your event. Contact us today for more information on custom gifting. We'll help you leave a lasting impression!