This past April, Paragon Events Inc. provided strategic meeting and incentive trip management, to host an incentive trip for one of the fastest growing technology companies in North America. Building off our continued partnership, we worked with the client to organize and execute their second annual incentive program at the SLS Baha Mar in Nassau, Bahamas.
Paragon Events Inc. successfully fulfilled our client's goals and objectives, including to:
Share progress and updates strategically
Recognize the top performers with an all-inclusive experience
Increase company morale as a whole
Strengthen brand loyalty
Establish clear goals and benchmarks for future opportunities
Ensure that all achievers feel motivated and valued
To recognize and reward the top sales performers of the company, we collaborated with the client to create a week-long, lavish getaway, simply named this year as "CLUB." The beachfront, luxury-style resort welcomed over 150 attendees, who celebrated with nightly receptions, thrill-seeking activities, and world-class customer service all around.
Prior to the island escape, Paragon Events Inc. prepared a customized, pre-trip gift, featuring an array of Caribbean-inspired keepsakes and travel essentials. Our marketing department carefully sourced and selected a combination of micro-fiber towels, water-resistant backpacks, premium Sun Bum kits, and leather luggage tags – all custom branded with the client's logo. The items were then placed in a sleek, matte-style box, which flaunted a vibrant design and the words "BOUND FOR THE BAHAMAS" in perfect view. All gifts were packaged in-house and conveniently shipped to attendees, with hopes of drumming up some excitement. Leading up to the trip, Paragon Events Inc. also received clearance to board a private plane and transfer all items, including on-site binders and signage materials, with ease and efficiency. The team departed from a private airport and traveled over incredible seas to reach the destination. Upon arrival to the
SLS Baha Mar
, all guests were greeted in a private Hospitality Lounge suite, which featured a pop-up shop display of custom beachwear items. Attendees were able to take advantage of their printed vouchers in exchange for a choice of Havaianas sandals, lush beach towels, and Nike Dri-Fit shirts. To further accommodate our global travelers, the Paragon Events team offered a variety of snacks, welcome beverages, and amenities to ensure a 5-star experience from the very beginning.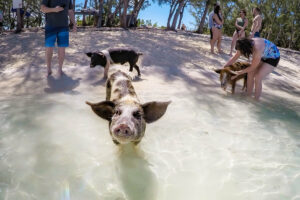 The Bahamas also presented a collection of experiences, as the country consists of more than 700 islands, cays, and islets across the Atlantic Ocean. On the first evening, attendees were immediately immersed in a cultural performance of Junkanoo dancers and traditional Goombay music, where the songs tell the stories of historical events and the everyday community. The group also participated in a speed boat excursion to visit the Spanish Wells, where they had the once-in-a-lifetime opportunity to feed and swim with the local pigs. This inspired great team camaraderie, as attendees were able to shape new connections and memories with their fellow peers. Furthermore, Paragon Events Inc. also arranged an authentic culinary tour, which allowed attendees to stroll through the colorful streets of Nassau and explore local art, historical landmarks, and the delicious tastings of the Bahamas.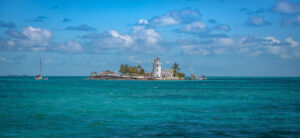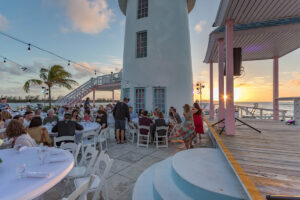 For the final celebration, we went beyond boundaries to deliver an extraordinary closing night reception by renting out our very own private island, exclusively located about 30 minutes from the Nassau Harbor. This idyllic island presented the perfect backdrop for a stunning sunset and is often recognized for its iconic lighthouse.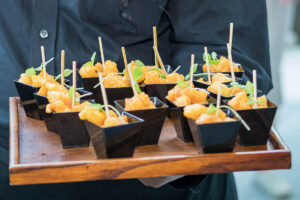 Our very own Chef Ron Radabaugh designed a personalized dining experience in collaboration with the island's culinary team for this evening's event. From freshly cracked conch to a specialty "Pitch Fork Fondue," we were able to offer over 25 island recipes, which were captured in a custom-made cookbook produced by our in-house graphic designers. As the daylight peacefully faded, we transformed the space to create an "Island Glow" ambience, which featured bright lights, glow sticks, and ultimately concluded with a spectacular firework show. Our incentive trip management expertise allowed us to successfully deliver an unforgettable experience that yielded strong employee satisfaction and sustainable motivation for long-term growth. When planning an event in the Bahamas, it's important to account for the following areas:
Peace of mind: Purchase travel insurance, especially during Hurricane season.
Know a country's rules and regulations: Caribbean destinations usually include a value-added tax (VAT), which can significantly impact your budget.
Plan ahead for transportation: If you are using a taxi service, try to negotiate based on the duration of service for the trip.
Secure any and all valuables: As with any destination, it's important to take protective measures and use the hotel safe. Do not leave any items in plain sight while on the beach or at an excursion as well!
Safety first: Prep attendees with any information on the roads and infrastructure (in the case that they are renting a car). Also, note possible areas to avoid for safety reasons.
Bring sunscreen: Since the sun reflects off of the sand and water, the intensity of UV exposure increases up to 50% in the Caribbean.
Research custom duties and taxes: If you are traveling with any amenities, know how to register them with customs for minimum taxation and how long it takes to clear through customs. You may want to consider a well-versed shipping service.
Patience is key: Though we're naturally punctual as planners, it's important to slow down and adapt to the pace of the culture. Be polite, smile, and say thank you – everything will work out!
Our team recognizes the positive impact of incentive trips and is ready to support you in creating a valuable program. Ultimately, travel has a universal appeal and offers the opportunity for companies to connect with their teams on deeper level. From a simple dinner conversation to a breathtaking excursion, these shared experiences can help you build long-term relationships and express sincere appreciation. The purpose becomes less about the destination and more about the outcome. Explore our website and connect with us to learn more about our
Incentive Programs
services and opportunities.