According to the National Human Trafficking Hotline, "Human Trafficking is the business of stealing freedom for profit. It is a multi-billion dollar criminal industry that denies freedom to 24.9 million people around the world."
---
Human Trafficking Awareness Event
Last week, Paragon Events attended MPI South Florida's January Education event, focused on Human Trafficking Prevention. The sobering seminar opened with a local detective and prosecutor covering information about the warning signs to spot and preventative measures to take against human trafficking. The guest speakers also shared a video from a convicted sex trafficker, detailing some of the brutal situations he lured girls into. Needless to say, the video revealed the harsh reality that these victims can fall into. Instances involve violence, fraud, manipulation, or false promises such as career stability or romance.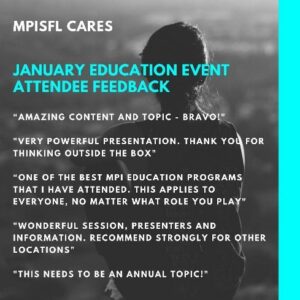 During the final presentation, a human trafficking survivor stepped forward with bravery to share her story and grim experience. The survivor's recount of her situation confirmed both the severity of this issue and more crucially important, the need to spread awareness especially to areas that are considered most vulnerable.
Overall, the event was incredibly impactful and depicted the prevalence of human trafficking across the world.
Key Takeaways
Here were some of our key takeaways from the event:
Situational awareness is key, and it's important to recognize victim indicators.
We all have a part in helping to end human trafficking.
If you notice someone that you believe is in a trafficking situation, DO NOT directly approach them. Instead, discretely call the National Human Trafficking Resource Center at 1-888-373-7888 or text 233733.
Human trafficking affects all ages, ethnicities, and genders.
Human trafficking is both a global and local issue here in South Florida.
People who have experienced human trafficking are not victims, but SURVIVORS.
The meetings and events industry particularly spends significant time traveling and visiting hotels. These areas open the door to crossing paths with individuals that could be in danger. It's important to be on the lookout for situations that seem unusual. Make sure to always report any suspicious activities to an authorized professional – it could save a life!
In addition, we call upon our partners to focus on instituting set policies and training for employee awareness, in order to work towards combatting this issue. As event planners submerged in the hospitality industry, we should be engaging our suppliers, venues, and corporations in an effort to create an open dialogue. Planners can also include requests within their RFP process or ask hotels about their initiatives in place. Both are great ways to start bringing awareness to our industry.
The Healing Power of Art
Finally at the event, we were also pleased to be in familiar company with ArtReach. This amazing organization is dedicated to spreading awareness and helping survivors heal through guided art therapy. ArtReach provides survivors with the opportunity to creatively express their emotions and cope with the aftermath of their experience. In support of the organization's selfless efforts, Paragon Events purchased two paintings this past year during our client's annual conference (the Florida Coalition to End Homelessness). Both pieces were made by survivors and now proudly hang in our headquarters as a constant reminder to advocate for safety and freedom.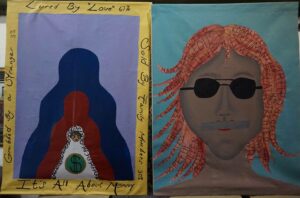 Although Human Trafficking Awareness Month has come to a close, this harrowing problem unfortunately continues. We must remain educated and mindful of the red flags. Many of these crimes go unreported and criminals will go to great lengths to keep their victims in the shadows. It is our responsibility as event professionals and in a larger sense as humans to stay determined on bringing this issue to light. Thank you to MPI South Florida for presenting on this important topic.
For more information on human trafficking and ways you can help make a difference, please visit: www.humantraffickinghotline.org