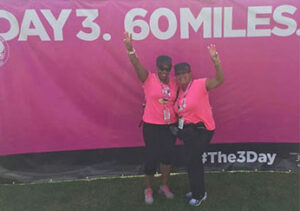 Congratulations to our very own Xiomara Rivas (Cee) for completing The Susan G. Komen 3-Day® 60-mile walk for breast cancer! Read on to see what I learned when I checked in with Cee to get the lowdown on her preparation, experience at the event, and reflections on her adventure.
Cee Rivas walked 60 miles in 3 days. Twenty miles per day….three days in a row! Why? To help win the fight against breast cancer. "I am an advocate for early detection and the fight to find a cure. I have friends that are survivors and they have family members that have lost the battle. When I went for my mammogram two years ago, they contacted me because they saw something concerning and needed to do an ultrasound. That day it brought reality to the table that self-exams and mammograms are critical." And with that, Cee signed up with her team, Sole Sisters & Bros. for her third Susan G. Komen 3-Day®, and became part of the community that helps provide more than 1,000 breast cancer screenings per day with Komen community grants.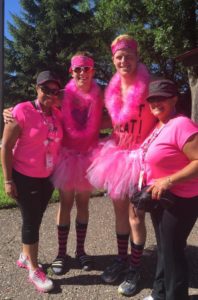 And boy, did she contribute! Every walk participant is required to raise $2300. Since its inception in 2003, the 3-Day has raised more than $800 million. How did Cee meet her fundraising goal? After asking friends and family to get her started, Cee got creative. She hosted two garage sales with donated items (she asked friends to clean their closets and homes and sold donated items), and also held a fundraising event during her bowling league. In addition, this year Cee reached out to her MPI family: "This year I informed my MPI Chapters that I would be out of the office and asked [that] if they had names of family members or themselves that were survivors or that they lost to this disease that they could send me [them to put] on my shirt and carry across the finish line. It was incredible that board members shared their names [and] stories, and I learned that a lot of people that I interact with regularly are affected directly and indirectly to breast cancer. It was unbelievable that we got so many names that we had to split the names up between our shirts and even double up names on some of the ribbons to get all the names added. Quite a few of the board members donated to my fundraising goal and I am so grateful for their support and that they shared their stories and followed me on social media during the walk." According to their website, 75% of the net proceeds raised by the Komen 3-Day® help support Komen's Research and Training Grant Programs and public health outreach programs for those who face breast cancer. The remaining 25 percent helps fund local community and Affiliate support and outreach programs. Last year, Komen provided financial and social support for more than 50,000 women, men and families battling breast cancer. Find out more information at www.the3day.org.
Even after walking 60 miles, Cee noted that the training was the biggest challenge of her accomplishment.  She downloaded the Komen 3- day training day app (provides schedules that mix walks, cardio and cross training) to train as much as possible but notes "I did not follow training as well as I have in the past and I could definitely tell the difference." During the event, there are 'sweep vans' which pick up participants that are unable to make it further or to the designated pit stops. Even though she may not have been in tip-top shape this year, Cee's team completed the entire 60-mile walk without the help of the sweep vans!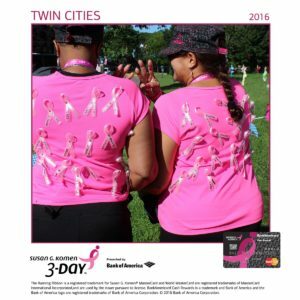 When I asked Cee to describe the best feeling she had on this adventure she responded: "The best feeling is making it across the finish line and then seeing the survivors walk in for closing ceremony. This year, the opening ceremony was very touching to hear the stories of those that were walking for those that they have lost. My most memorable mention was a set of sisters that walked the previous year for their mother who was fighting breast cancer and they found out she passed away 2 hours after crossing the finish line. Also, we walk whether it is sunny or rainy and along the route, residents of all ages are cheering us on. The most memorable on this trip was there was a man that had a photo of his daughter that had died from breast cancer and must have been in her twenties but he stood in the rain looking for survivors to give them a pink rose. It was awesome."
Yes, Cee, we think it's awesome, too! Do you have any advice for anyone looking to get involved in this event? "The best advice I can give is to train and prepare to be inspired and inspire others. It is definitely not easy but after a week of being sore and in pain, I am back to normal and unfortunately those that are fighting the battle of breast cancer continue to fight long after my week of being uncomfortable is over." Cee is ready to go again, and is already signed up for Philadelphia 2017!