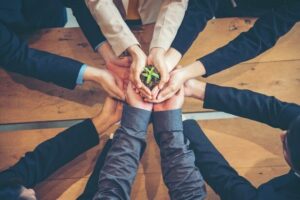 Earth Day reminds us of the ever-increasing importance of sustainability and eco-conscious events. According to Mashable, scientists have reported that about 97% of Earth's surface has been damaged by humans. At Paragon Events, we strive to ensure our carbon footprint is scaled down by producing programs with an emphasis on environmental awareness.
WHAT IS A SUSTAINABLE EVENT?
A sustainable or "green" event is an event produced with the conscious objective of minimizing negative environmental repercussions for the planet. These events focus on ways to properly manage waste disposal, reduce water and electrical consumption, and prevent pollution.
THE INTANGIBLE BENEFITS OF HOSTING SUSTAINABLE EVENTS
Ethics & Reputation Management. Prioritizing sustainability shows your commitment to corporate social responsibility and ethical business practices. This can have numerous benefits including positive marketing messaging, an elevated attendee experience, and increased customer loyalty.
Building Awareness. Making sustainability a key component of your program demonstrates positive action toward change while reminding attendees of the importance of going green in their own lives.
THE TANGIBLE BENEFITS OF HOSTING SUSTAINABLE EVENTS
Saving our Planet. The most obvious reason to go the sustainable route is to minimize manmade contamination of the earth. Small changes can have a tangible impact on the environment around us, making it everyone's responsibility to do their part.
Potential for Increased Sponsorships and Investors. Creating a focus on sustainability can open doors to new sponsorship and investment opportunities, as it displays environmental ethics within a company.
AREAS OF SUSTAINABILITY TO CONSIDER FOR YOUR NEXT EVENT
Location
Is there such thing as an "eco-friendly venue"? Absolutely! Here are some key features to look out for when choosing an eco-conscious venue:
Eco-friendly bathrooms (air hand dryers, low water toilets)
Public or shared transportation options nearby
LEED Certifications or elements such as solar panels and outdoor spaces
Large windows that allow in natural lighting
Click HERE to view an article from BIZBASH highlighting 12 green venues for meetings and events!
Materials
From large signage displays to small flyers and everything in between, disposable material can add up quickly. The solution? Increase technology use.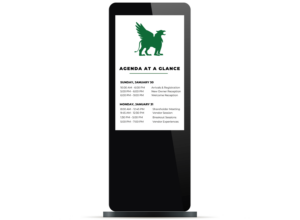 Create QR codes or event apps for agendas, brochures, and handouts. Push notifications from mobile applications are a great way to instantly notify attendees of upcoming activities or program changes. A hidden benefit of this is that as information changes on the fly, so can your materials!
Market your event on social media, create e-tickets, and send invitations through email.
Make the switch from foam core signage to digital signage. Not only does technology reduce the buildup of material waste, but it can also be more cost-efficient in the long
Swag is usually made unsustainably in factories and is often discarded after the event. Try replacing traditional swag with digital giveaways or redeemable experiences!
In some cases, when paper usage is necessary, opt for recycled paper. Don't forget to recycle the paper again when you're finished with it!
Transportation
A sustainable event should encompass initiatives from start to finish, including transportation. What do most means of transportation have in common? Gas emissions. A typical car emits around 4.6 metric tons of carbon dioxide per year!
How can you limit emissions?
When transporting attendees to off-site venues, encourage the use of public transportation when available. Make note of the nearest bus route or train station and provide attendees with a schedule. When public transportation is unavailable, consider contracting a shuttle service.
Encourage ride-share or carpooling. Although this is still a passenger vehicle, it will cut down on gas emissions. Every bit matters!
Be creative! Offer non-traditional transportation options such as bikes, petty cabs, and scooters! These are not only ecofriendly but add an element of fun and whimsy to your event, which ultimately will leave a lasting impression on your attendees.
Waste and Cleaning
Waste is inevitable. But how can event waste management and cleaning be sustainable?
Place recycle bins right by trash cans to encourage recycling. We've found this to be a no-brainer!
For post-cleanup, talk to the venue about using eco-friendly cleaning products and their recycling procedures.
This is also an area where making your intentions known with your vendors and partners is crucial. Being clear during the RFP process will make sure you align your event, your needs, and the right vendors too.


Catering
Food service is often overlooked as an area for sustainability. In reality, a few simple changes can drastically reduce the overall carbon footprint. Ordering food locally will not only give back to the community but also reduce pollution by cutting down on the transportation of catering services. Accurate RSVP numbers are crucial. This way, the appropriate number of portions are served, minimizing excess.
Focus on reusable materials:
Replace paper or plastic tableware with reusable or biodegradable dishes. At one of our most recent in-person events, our team requested the caterer use bamboo bowls for a "grab-n-go" lunch.
Stay clear of plastic water bottles and opt for reusable bottles instead. They make a great pre-event gift and can be used throughout the duration at water stations.
Of course, the most sustainable route would be to host virtually. Ask yourself which event type makes the most sense for your organization. Still not sure? We can help you to strategically figure that out!
With the methods mentioned above and a focus to become more sustainable, Paragon Events is driven to bring top-tier service to our clients while simultaneously helping planet Earth thrive. With the supervision of COO and President of Association Management, Francesca Radabaugh, (who holds a degree in Geography, Natural Hazards, and Environmental Justice) our team of event professionals brings an outstanding level of knowledge, credibility, and practice to the topic.
Contact us to discuss your future eco-friendly events. Every small step toward sustainability matters.
Happy Earth Day!