Did you know today marks the shortest day of the year? At 11:28 am ET, the astronomical phenomenon known as the "Winter Solstice" will take place. Not only is it considered the shortest day of the year, but it is also the longest NIGHT of the year, kicking off the beginning of winter! Aside from the sun being at its lowest point, we sat down with our Managing Director and President,
Renee Radabaugh
, Graphic Designer,
Ashley Kahhat
, and Manager of Meetings and Events,
Katherine Stokoe
, to hear what they've accomplished in 24 hours. The Paragon Events team has gone around the world in 24 hours. In a day's length of time, Renee Radabaugh has traveled to Alaska, San Francisco, Los Angeles, and Honolulu totaling to four plane rides in which she attended 2 events. Talk about jetlagged…
Does the shortest day of the year effect your work habits for the day?
"Absolutely not, if anything it just means I sleep a little less!" Renee said.
Have you ever had to get a passport renewed in 24 hours?
"Although I have never had to have a passport renewed in that time frame, I have had to rush visas for clients," said Renee.
Have you ever had to turn an event around in 24 hours?
"Yes, one event had a power outage due to an electricity blow out and we had to move the meeting space and reset the A/V and stage in two hours!" Renee said.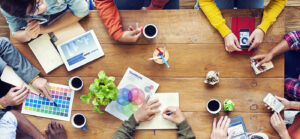 Within a 24-hour time span, Graphic Designer, Ashley Kahhat has managed to proof, finalize, and print numerous graphic materials for events. For one conference alone, Ashley succeeded to turnaround the design and approval of a ten-page program book, meter boards, large-scale display banners, easels, floor clings, table tents, and other sponsorship recognition items. Not only was she on deadline to order a variety of promotional items, but she was able to compile over 50 speaker presentations and update a mobile application with push notifications! As Manager of Meetings and Events, Katherine Stokoe works on multiple accounts on a daily basis. In a 24-hour period, she has worked on 20 events, either checking deliverables or supplying services.
What keeps you motivated to meet a crunching deadline?
Drinking red bull and staying hydrated
Utilizing my team
Setting expectations appropriately
Staying positive
Listening to music
Deep breaths!
What could you do at the eleventh hour to turnaround an event?
"Find a venue, build a budget, create a timeline, prioritize responsibilities to execute the event and have the trust of your client," Katherine stated. Not only has the events team planned an event in 24 hours, but the
Association Management
team has transitioned an entire chapter in this time span which consisted of transferring bank accounts, phones, and all software accounts.
"The fundamentals of association management are working smarter not harder.  All nonprofits and associations have to put processes in place to do more with less – less time, less money, and/or less resources. For our team, efficiency is key." – Francesca Radabaugh, Director of Association Management and Operations
Finally, when Hurricane Matthew hit in 2016, Paragon Events had to hustle to postpone and provide proper notice of when the event would be rescheduled. The team had to inform over 400 attendees and 50 sponsors, reroute shipped materials from multiple vendors, contact the hotel for force majeure protocols and procedures, and update the event website with new information. Overall, it was the rapid response and preparedness of the Paragon Events team that allowed for a seamless event transition. It may be the shortest day of the year, but that doesn't stop us! Even in total darkness, our team can offer bright solutions to illuminate your event to its fullest radiance! Considered a turning point in the year and a time for renewal,
check out
some of the centuries-old winter solstice traditions celebrated around the world.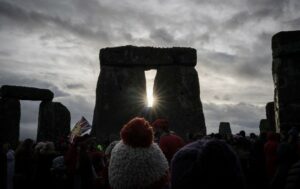 Crowds selected by an annual lottery gather inside the 5,000 year old iconic burial mound, Newgrange monument in Ireland to absorb the sunrise. This year, only 60 out of 32,500 people were selected to watch the sun rise through the 62-foot passage leading into a chamber aligned with the sun's path. In Japan, people soak in baths full of fruit to welcome the solstice and protect their physical bodies from the common cold during winter. Koreans indulge with a red bean porridge to keep the evil spirits away as it is believed to be associated with good luck. Revelers gather at England's legendary Stonehenge to sing, play music, dance, do yoga, and kiss the stones while waiting to watch the sun rise.
How are you conquering the shortest day of the year?