Paragon Events has the best 3 tips for Super Bowl Event Planning. They recently attended Super Bowl LIII to organize a client's incentive event following their Customer Advisory Board meeting in Atlanta, Georgia. To conclude their company trip, attendees were surprised with tickets to the world's most televised game and received an all access pass to a special Legends & Champions VIP party. Managing the on-site execution and travel for the event, Paragon Events successfully escorted attendees through the experience of a lifetime.
When planning an event of this caliber, it is important to account for the following areas as it relates to communication, transportation, and guiding attendees on-site. Here are some quick tips to achieve victory at a Super Bowl event:
Secure transportation logistics ahead of time.
Educate your client on meeting times, road closures, pick-up and drop-off locations, alternate routes, and any anticipated traffic. Our Senior Event Specialist and Event Coordinator researched the area in detail and organized an official briefing with all bus drivers and guides to ensure everyone was informed on the event schedule. In addition, our in-house graphic designer created a custom map that outlined the stadium and provided specific paths for attendees to take for each aspect of the event.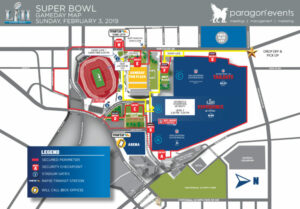 Utilize custom branded signage.
Include the client's company logo on signage so that attendees can easily recognize checkpoints and meeting locations. Paragon Events' incorporated the client's logo on everything from bus signs, to paddles, and large format posters. It's also important to account for maximum visibility. As the event reached the evening, light-up signs were essential to find and gather attendees.
Communication is key in Super Bowl Event Planning.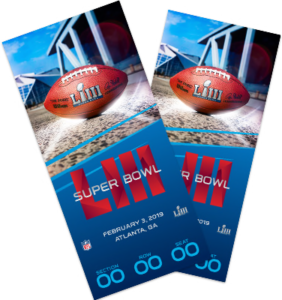 Facilitate information in advance, with enough time to answer questions and provide further clarification. Once attendees are on-site for a large capacity event, loud noise transpires and people can be easily distracted by surrounding activities. Our team created a custom Game Day document, which included staff information, emergency contacts, and the event itinerary. We made sure to thoroughly review everything on the way to the Mercedes Benz stadium and address what to do if someone is lost or separated from the group.
The game itself may have been underwhelming, with the New England Patriots defeating the Los Angeles Rams through a record low score of 13-3. However, Paragon Events scored multiple touchdowns and received high praise from the client for organizing such a monumental company celebration.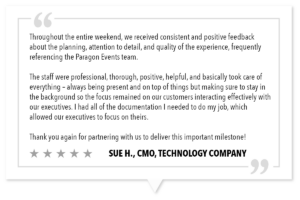 For now, we're counting down the days until Super Bowl LIV on February 2, 2020, where the game takes place at our local venue, the Hard Rock Stadium in Miami Gardens. Fortunately, we are ahead of curve as our team has attended several Miami Dolphin games and has received a behind-the-scenes tour of this multipurpose, 65,326 seat facility.
Contact us today to organize an exclusive event for the 50th modern-era National Football League (NFL) championship game, Super Bowl LIV.