Paragon Events provided logistical support for the execution of the FPL SolarNow Installation event at Zoo Miami last month, to bring awareness to the three 24-foot-tall, solar-powered "trees" scattered throughout the zoo.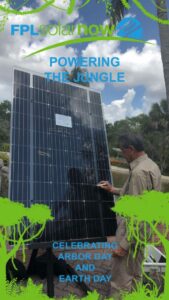 Florida Power & Light company (FPL) is committed to creating a brighter future and finding new, innovative ways to bring additional solar energy to communities while advancing the use of clean solar energy in Florida. From solar parking canopies and walkways to solar trees, these innovative structures use Florida's natural sunshine to generate emission-free energy that powers the electrical grid and benefits everyone.
The FPL 'SolarNow' campaign is an opportunity for customers to contribute an extra fee each month to help fund the solar initiative. These customers are then invited to attend various events, such as the Zoo Miami Installation Event, as part of a proactive effort to promote solar energy, educate stakeholders, and raise awareness about FPL's solar objectives. In attendance of the event were FPL SolarNow customers, pertinent representatives from Zoo Miami, FPL employees, community leaders, and the media. The collaborative celebratory event recognized the partnership of FPL and Zoo Miami, and reinforced FPL's commitment to advancing the use of clean solar energy in Florida, while engaging the broader community.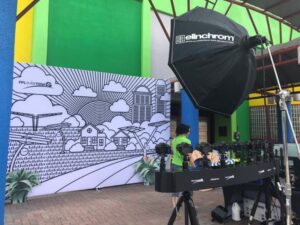 Fun Fact: Each solar tree has two solar panels which send electricity to fuel the zoo's infrastructure. The solar arrays also provide people the opportunity to see and learn about solar energy up close – something many have never experienced because these panels are usually located out of sight on rooftops or in rural areas like FPL's universal solar energy centers.
To create an interactive event, Paragon Events designed and coordinated a variation of activation activities including a SolarNow step-and-repeat with 3D safari cutouts, a 180-degree photo booth, and a custom-branded Snapchat filter! Paragon Events featured Capture POD's 'Capture Scope' technology, a multi-camera photo booth that captures a single moment utilizing 9 cameras. The photos are then stitched together to create a "freeze-motion" video that is social media ready. Attendees were able to take the Capture Scope photo/video and instantly share it across social media using the event's hashtag.
For attendees to relax and unwind from all the action, comfortable couches and chairs were set up featuring customized FPL SolarNow pillows. While cooling off in the shade, attendees could charge their phones via the solar powered end tables.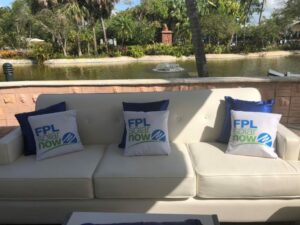 Powered by FPL and Florida's newest high-speed railroad system, Brightline provided attendees with giveaways including round-trip passes on the train, while also promoting their new routes across Florida. The Brightline locomotives have diesel-electric engines for lower emissions and reduced noise in efforts to creating an environmentally friendly alternative form of transportation.
As attendees prepared to depart for their own personal Zoo Miami tour, Paragon Events distributed iPads which included information on the zoo's exhibits and solar trees around the park. This engaging activity included a branded trivia game to educate and entertain attendees throughout their tour.
Overall, the installation event provided a unique opportunity to demonstrate the outcome that has emerged as a result of the local community's support. It also allowed for a professional public forum to honor and thank those entities and individuals whose contributions made the solar trees possible.
Paragon Events offers brand activation services for events of all scopes and industries. Our team of experts secures unique destinations and venues that will further enhance your brand and elevate the success of your envisioned event. Through our streamlined event process, our team will work with you to create a customized experience that will bring your brand to life and cultivate long-term connections.