With one year under our belts, Paragon Events has never stopped prioritizing innovative ways to reward valued attendees, employees, and community members.
Events are returning and attendees are meeting. That's the best news we have heard all year! But to expect a return to normalcy—no matter how you define it—would be presumptuous. Corporate groups, nonprofits, and associations are wisely planning for a decent amount of attendees to remain remote through at least the end of this year.
"Hybrid" is already the word for 2021. Boiled down to its most basic definition, a hybrid event is one in which a group meets in-person and a virtual component is added. There is nothing simple about this. If your group stuck solely to in-person conferences, conventions, galas, and meetings prior to 2020, and then went all virtual last year, consider hybrid the middle ground.
When done properly, hybrid events have the potential to be the best of both worlds. Attendees who feel comfortable can meet in-person and conduct the networking many people are craving.
The virtual side allows for greater participation because studies show participants are more willing to attend a show for the first time virtually than in-person.
This is not terribly surprising, as there is often less cost, and travel time, along with greater flexibility and convenience.
The best approach to a hybrid event is building partnerships. Taking this challenge on for the first time is daunting, especially when going it alone. Seek out vetted vendors and/or planning agencies, like Paragon Events, to cover your bases through every step of the process.
Virtual Side
While it is thrilling to welcome back face-to-face attendees, the No. 1 rule in hybrid is to remember the lessons learned from 2020. Specifically, don't brush aside the virtual component, for if anything, expectations are going to be higher for a greater digital experience. For example, an hour-long webinar can't be treated the same as a full virtual event. You need to engage audiences for multiple hours, over many days. Continued engagement is key.
It goes without saying planners will need high-speed internet and a plethora of bandwidth to pull off such an event. That's the backbone of virtual planning. Once that is acquired, or even prior to signing a contract, take a big step back and think about the return on investment (ROI) you can provide virtual attendees.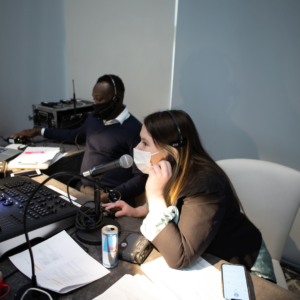 The face-to-face crowd is going to have an advantage tasting the food, meeting fellow attendees, and enjoying on-site experiences. They are using more of their senses. You may not be able to make up for all of this, but there are ways to compensate. Mindset is key. Just think of it like the Oscars, an exclusive event attended by thousands of Hollywood celebrities that is enjoyed by millions more at home.
Make sure to think about the post-event and map out internally how to utilize the content upon the event's conclusion. Consider:
How long will your organization keep recordings available to registered attendees?
Will you have a paywall to access the sessions and keynotes?
How will you use the content to maintain your editorial calendar?
What's the best way to use the content to market your next event?
Include Those at Home
It is important to create two agendas, one based around the in-person activities, but also one that is specially designed for those at home. Behind-the-scenes tours and videos on-site are an interesting place to start. Not only is the content relevant and hopefully engaging, but it can also be beneficial for those at home to see what safety measures are in place. In a best-case scenario, you may sell digital audience members on attending in-person the following year.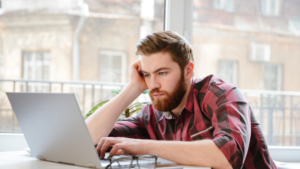 Consider exclusive interviews with keynote speakers and session presenters as well. This adds a unique flavor to the virtual portion and can also serve as content to air during a break in the action. After all, you will want to factor in bathroom and coffee breaks for those at home as this is not a captured audience like the in-person attendees. If there is more than a 15-minute break in the action, you risk losing online interaction for the rest of the day (or event).
Another important element to consider is how to present education sessions and keynotes. One camera at the back of the room will come across as subpar. Having roaming cameramen allows a producer to make quick edits to maintain attention and present reactions from the crowd. Also, think of multiple camera angles for creative content sharing. It can and should feel like a television program. To further the engagement, incorporate a chat for the digital crowd to react to the presentations and ask questions.
If this sounds like a lot, it is. Especially when a company is likely to task its in-house planner to concentrate primarily on the in-person element and building out the ever-important content. We have several vetted production companies located across the country that provide the services recommended above. Yet you will also need a point-person to oversee the digital side. If your staff is small, it is worth approaching experienced event planners to oversee processes and hire/recommend trusted vendors. You can't afford a technology meltdown or a slow show which will in return ruin the experience for attendees.
In-Person Side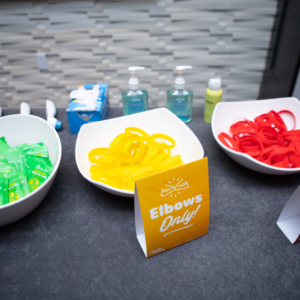 While the thought of bringing groups together is exciting, it is important to remember we are in a new era. Some attendees may be longing to enjoy a conference like in 2019, but that just isn't possible yet. Other attendees may be nervous about a large gathering, so approach the planning from all angles and attendee types. Both groups are equally important. Most conferences are expected to resume in the fall or winter. That means it is time to consider important questions and let attendees know what is expected of them.
The best policy here is honesty and transparency. Clearly communicate what the in-person event will be like beforehand. Be sure to answer questions like:
Are masks required?
What safety measures are in place?
Are attendees required to sign a waiver?
What does the hotel provide in terms of protection (foggers, GBAC Star certification, and outdoor venues)?
Are vaccines required?
How will food be served?
What will transportation look like?
Bringing It All Together
Beyond managing the in-show experience, planners will also need to be collecting vital data and feedback. The events industry is being reshaped, and empirical evidence will be important to generate innovation and improvement. Events will continue to get bigger and better, just in a potentially different way than we imagined. While this will be a learning experience for everyone involved, the event cannot give the appearance of being one. Your organization and your attendees are counting on you being the expert.
Delegation and partnerships have always been solutions to the event puzzle. This is at least one element about events that is never going to change, so don't go it alone! Find industry veterans who understand how to deliver ROI and have experience in both virtual and face-to-face events.
Paragon Events has the experience and connections needed to make your event a success. The team at Paragon Events views its success as your success. We will work together to accomplish your goals and build a foundation for further growth.
This blog post was authored by Matt Swenson.
[/cmsmasters_text][/cmsmasters_column][/cmsmasters_row]