By Jessica Zell There are several reasons why Paragon Events has been selected for the past four years to provide services for a Las Vegas based client: Our experience within the confines of a hotel and our ability to become the experts in every destination.
A Star-Studded Event
For 2018, Paragon Events was hired as the Destination Management Company for an event in La Quinta, California to support a prestigious and comprehensive professional member organization in the pool and retail industry. Approximately 600 attendees including members, guests, and families gathered at
La Quinta Resort & Club
for an opportunity to network with their industry community and build new relationships with vendors and suppliers.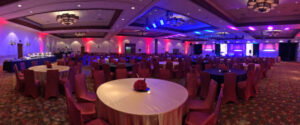 As the DM partner, Paragon Events was focused on increasing engagement, boosting satisfaction rates, and providing an overall entertainment factor for attendees. This year's theme was centered on old Hollywood glamour, so Paragon Events rolled out the red carpet and brought in the era's most enjoyable elements.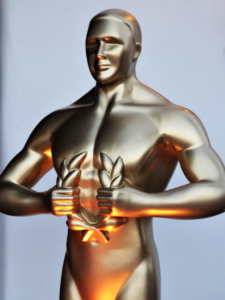 Paragon Events was able to facilitate signage and marketing needs by working directly with a local printer in the La Quinta area. To execute a smooth flow of placement of the décor and signage, Paragon Events was precise in planning the location of items prior to the event in order to properly guide and engage attendees. On site, entertainment consisted of a DJ who played classic tunes during the welcome reception, a photo booth bus which promoted the conference hashtag, and backyard games including corn hole, horseshoe, Jenga, and more.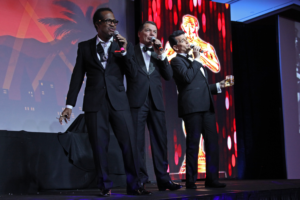 Due to the colder than expected weather, Paragon Events was able to work with the hotel in less than 24 hours before the Vendor Appreciation Party, to create a completely new floorplan and flow for the event – moving it from an outdoor space to an indoor ballroom. Additionally for this portion of the event, attendees were welcomed by a Paparazzi entrance, Elvis and Marilyn, and a top-notch band! For the Awards Dinner, Paragon Events organized a celebrity-style cocktail reception which featured a "Meet and Greet" with the Rat Pack and an Awards Ceremony hosted by the one and only Frank Sinatra.
Implementing Event Technology
The event saw a substantial increase in engagement on the mobile app which led to the overall success of the event and attendee experience. Comparing 2018 to 2017, attendees were actively engaged on the mobile app and reports showed an increase of:
77% in overall engagement (clicking through the app, going from page to page)
57% in user contributions (rating a session, posting a picture, using a hashtag)
68% more time spent in the app
18% in total users
86% in session views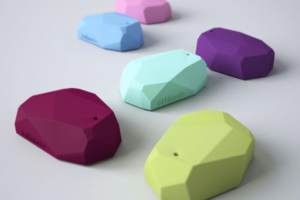 Advances in technology have led to sweeping improvements in the events management industry and the integration of new products have provided a competitive edge that has dramatically changed communication at an event. Paragon Events incorporated
Estimote Proximity Beacons
technology for the first time to track attendee behavior and mobile app usage. Beacons consist of a tiny computer that broadcasts a radio signal which allows a smartphone to pick up and interpret this signal. Powered by a coin battery, the device also has an ARM processor, memory, Bluetooth Smart module, and temperature and motion sensors. When an eligible mobile app enters the signal's region, vendors, planners, and exhibitors can send information directly to an attendee's smartphone based on their location.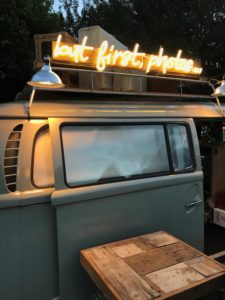 "The Beacons were a great addition when it came to engaging attendees. During the tradeshow, the Beacons produced over 300 impressions on attendees via a Bluetooth notification," recalls
Braylon Bush
, Technology and Applications Coordinator of Paragon Events. During the tradeshow, attendees were consistently moving around while being updated with on-the-go with reminders and alerts. Beacons are also able to highlight sponsors and give them added value in their packages. The technology can also support multiple services during an event such as at registration to send reminders about upcoming sessions or to share content that is targeted to the guest's location within the event. Finally, Beacons are utilized to track attendee behavior, providing data on foot traffic, dwell time, and other info to monitor and report post-event analytics that will help better prepare for a future event.
Destination Imagination
To further enhance the event, our team organized three different excursions that would suit all attendees. To embrace the area and character of the destination, we strategically planned activities that would add value to their overall experience. Paragon Events was able to report on registration number per activity and provide a final number of guarantees to meet budget requirements. Additionally, Paragon Events organized private transportation for all off-site activities. Attendees had the opportunity to participate in the following activities: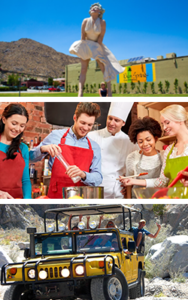 Palm Springs Star Adventure Discovery Tour:
This tour provided the most comprehensive narration, one that only the award-winning guides of Five Star Adventures Tours could offer. Attendees toured "Little Hollywood," the glamorous "Movie Colony," and had the opportunity to learn the history of Palm Springs while blending an exciting Modernism Tour of the city.
A Taste of Palm Springs – Culinary Tour:
Attendees experienced a guided culinary and cultural stroll along Palm Springs' desert El Paseo. It combined enticing food tastings with historical, architectural, and cultural insights from passionate local guides.
Eco-Adventure Desert Hummer Tour:
This adventurous tour took attendees to the 3rd largest Palm oasis in the world and to the San Andreas Fault in a 35,000 acre preserve, where guests walked over a bridge that straddles the very crack of the fault. Attendees were then whisked to the Mojave Desert to take open air Hummers into the Joshua Tree National Park.
A majority of attendees had never been to this destination before and therefore did not know what to expect, nor what the city had to offer. Paragon Events researched and organized activities that would immerse guests in the city's most popular sites and adventures. Approximately 18-20 percent of attendees participated on these three tours and about 25 percent partook in all activities and events during their 5-day stay. Overall, there are small things you can do to greatly impact your event. Whether it's incorporating technology to create a sense of network or blending a mix of authentic activities to make attendees feel more connected to the area, Paragon Events transforms themselves into the experts of an event's destination to provide your attendees with a worthwhile and unforgettable experience.