By Ashley Kahhat and Jessica Zell
Over 1,000, varied-level photographers from all over the country came together for the 2018 Click Away Conference at the Omni Amelia Island Plantation Resort last month for three days of capturing, learning, and experiencing a social conference and retreat.
In attendance of one of the most talked about events in the photography world was Paragon Events Graphic & Web Designer, Ashley Kahhat. As an early adopter of new processes and technology, Ashley continues to explore innovative ways to concept digital strategies and learn new skills, in this instance as an experienced photographer. Not only did Ashley experience the conference from the other side of the event spectrum as an attendee, but she was also able to take back valuable knowledge and skills. From hobbyists to business owners, photographers attended for various purposes.
This year's conference was held on Amelia Island at the gated resort and property where only official guests could enter, allowing for an intimate and exclusive-feeling event. Attendees at the picturesque oasis had limitless opportunities for creative photos and videos.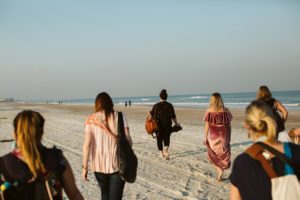 The conference featured a keynote presenter each day, with blocks of informative workshops and speaker panels. Workshops included photography tutorials on family, emotional storytelling, documentary, underwater, and video filming. With over 130 programs to choose from, programs were offered for every skill level and across a variety of genres.
A Scheduling Tool was also provided for attendees to search keywords for specific subjects and levels of photography to build their own custom itinerary.
                                                                    Ashley had the honor of meeting keynote speaker and interior designer Ruthie Lindsey. Ruthie's speech was focused on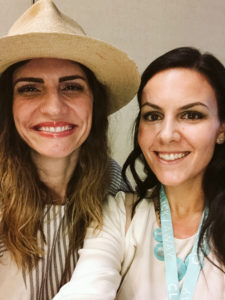 overcoming hardships and pursuing your dreams, as she became very popular and credible in her profession after the Taylor Swift 'Red' album cover was photographed in her personally designed and decorate home.
Vendors rewarded speakers and attendees with giveaway bags filled with some of the most trending merchandise on the market. The event was a sponsor's dream – an opportunity for their products to be professionally photographed first-hand by attendees and increase their buzz on social media. Among sponsors were top camera manufacturers and brands including Nikon, Sony, Canon, and more. These sponsors were also able to promote their brands through live interactions with attendees including the loaning of gear for participants to use throughout the duration of the event and by offering free camera sensor cleanings. On property, floor decals were scattered throughout the grounds along with a social wall and wireframe installation inside the vendor marketplace.
"The most important takeaway from the conference was the overall great experience it provided. I learned to always be on the lookout because a memorable moment could pass you by and be gone within a second," Ashley said. Creative events resembling this photography-focused conference provide tremendous opportunities for meetings and event planners. In the upcoming year, hundreds of photography retreats, workshops, conferences, and conventions are taking place around the world. Both amateur and professional photographers attend these educational events to learn new skills, discover tricks-of-the-trade, shoot alongside top-notch photographers, connect with fellow attendees, and gain new inspiration. The nature of this retreat is something every creative professional should look into adapting for the future.
To learn more about the Click Away conference, visit www.clickinmoms.com/clickaway