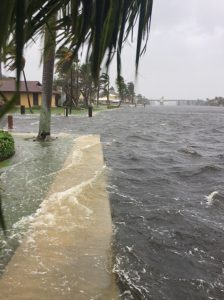 "So… what do you think?" President & CEO of Paragon Events, Renee Radabaugh asks bright-eyed as she spins around in a sleek, sophisticated ensemble that captures her professionalism and elegance in the most authentic way. A group of Paragon Events' team members cheer back in excitement, eager to see the other outfit selections. High energy fills the room as the team helps Renee plan for her cover photo shoot for the November Issue of the Meeting Professionals International (MPI) magazine.
In a moment of surrealism, our thoughts bring everyone back to only a few weeks prior, when the office received news of Hurricane Irma. Then projected to storm through the east coast, we recall our concern for Delray Beach, Florida where the headquarters of Paragon Events are firmly located.
During the period before the storm, the office shuffled with urgency to begin enacting our hurricane preparedness plan, established shortly after 1992's Hurricane Andrew and since updated after 2016's Hurricane Matthew. Together, the Paragon Events office teamed up to back-up company computers and servers, lock up confidential documents and records, and review the standard communications policy to maintain correspondence with the office and our clients.
The event team also began to build a plan of action for departing Florida, in order to maintain a seamless connection and prompt arrival to the 2017 Global Tourism Summit, managed by Paragon Events this year in Honolulu, Hawaii.
Katherine Stokoe, Manager of Meetings & Events, immediately contacted our scheduled airline to inquire if flights would be cancelled within days of the storm. After receiving an unconfirmed answer, the Paragon Events team took the initiative to elect five core team members to leave early and drive to Tampa in order to board the final, remaining flight that was offered before Irma hit landfall.
Upon arriving to Tampa after a six-hour drive due to evacuation traffic, the airline provided an official update that verified all flights were cancelled. It was then that the team made the decision to persevere and drive an additional 12 hours outside of Florida to New Orleans in order to make it to an operating airport.
In the midst of the commotion, Renee received a phone call from a close contact and publications writer, who was covering the hurricane's news and stories. Renee openly shared details of the long haul through the state of Florida, among gas and supplies shortages, and described how we calmly leaped into action to ensure our clients' meetings and events continued as planned.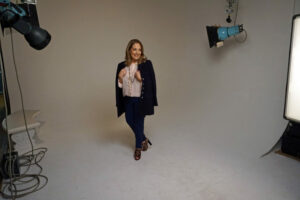 Captivated by our diligence, the writer immediately conveyed the story to MPI magazine, a credible source known to share the industry's best practices and upcoming trends that help elevate meeting and event professionals.
Soon after, MPI magazine reached out to Francesca Radabaugh, Director of Association Management & Operations, who was holding down the fort in our headquarters. Francesca was able to provide detailed photos that showed how our area was affected during and after Hurricane Irma.
Sure enough, with every cloud came a silver lining – our employees remained safe from the storm, our office endured minimal damage, and one of our largest events of the year concluded as a raving success.
Providing a serendipitous celebration, Paragon Events received an announcement that our fearless and inspirational leader, Renee Radabaugh would be awarded the cover of the MPI magazine, with the November issue focused on disaster preparedness and protection.
Click here to read the full article featuring Paragon Events and how we "passed the test" of Hurricane Irma.
---
Special Recognition
It is with great appreciation to thank all of those who contributed to this exciting experience and opportunity:
Thank you to our Paragon Events team members, who provided the utmost professionalism to their clients' accounts while facing a severe storm.
Thank you to our clients for their messages of concern, understanding, and well wishes.
Thank you to our vendors and partners who continue to have our backs and provide support.
Thank you to Paul McDermott, fellow MPI South Florida member for capturing the perfect cover photo and for providing flawless photography services.
Thank you to Faces by April for the beautiful make-up and cosmetics.
Thank you Chelsea Lang for completing the hair and styling.
Finally, thank you to MPI magazine for selecting Paragon Events to be a part of this rewarding feature.