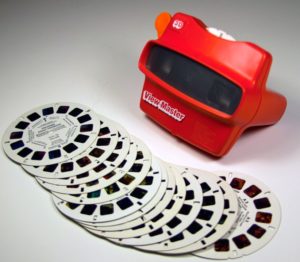 Virtual Reality (VR) headsets are a technological breakthrough that could be utilized as a marketing tool for a variety of industries. I will explain by taking a short trip down memory lane…
Did you have a View Master (VM) when you were a kid? I did, and in fact I still have it perfectly stored as I wait for Antique Roadshow to discover it's worth millions. Well…maybe not millions, but I could dream.
View Master made stories come to life. Books were taken to the next level by giving a story vivid imagery that one could experience up close and personal. The original View Masters were used by inserting a disc with single frame pictures into the top of the viewer. The VM was held up to your eyes, and the pictures were viewed one click at a time, by sliding a mechanical level on the side of the device down to advance to the next frame.
The View Master has since been catapulted into the future and transformed to be more interactive than ever. VR headsets allow an individual to have a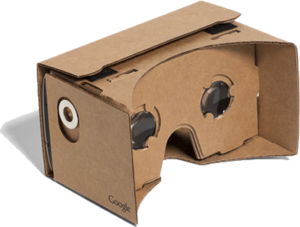 3-D experience with 360 views right through their smartphone. All it takes is for an app to be downloaded and a headset purchased that holds the phone. The VR headset is then held up to your eyes (just like a VM), and the app makes you feel as though you are actually in a particular place and/or situation. Unlike the old-fashion VM, the headset pairs up to your smartphone and uses 360 viewing along with sound, to take you to anywhere – all you have to do is watch and enjoy.
Virtual Reality has actually been around for years, but consumer friendly products have not been readily available and affordable for the consumer market. (VR Headset, Tech Target , 1999 – 2016)  Finally plastic and cardboard versions of VR headsets that attach to a smart phone are now available, making this technology affordable with retail prices ranging from $8 – $800 retail. There is even a version that looks just like an old-fashion View Master!
VR headsets are also growing rapidly as a form of marketing. They are increasingly becoming used by many industries from the military to health care. (Knvul Sheikh, 2016)  Home improvement stores are using them to show you what a completed, renovated room will look like.  The Marriot and Radisson hotel use VR headsets to promote their various locations and facilities. (Marriott Hotels , 2015) Finally, Patron Tequila is using it to give customers a virtual tour of their tequila making plant. (EventMarketer, 2016)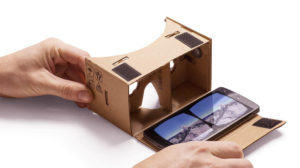 There are truly endless opportunities for applications, and I believe this same tool could be an asset for the event planning industry.  Imagine a VR headset experience that would allow a potential client to preview a particular venue, or experience several themes and table set-ups for an event before choosing one. Or perhaps it becomes a souvenir that clients distribute to attendees as a way to remember the event. This is very much an untapped resource that could revolutionize marketing for events and become a fantastic way to impress clientele without actually having to go anywhere. The viewers themselves can also be branded, and the apps can be developed and personalized according to a specific need. This technology is very flexible and has more reasons for use than I can present to you. Get ready to use your imagination and begin a virtual adventure!