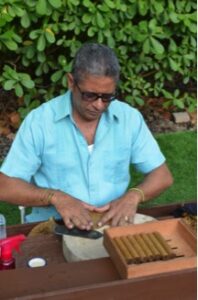 Tuesday, May 10, 2016–Cocktail Reception and Dinner at Lowes Miami Beach Hotel–Guests were greeted with specialty cocktails including the Blue Lagoon and Strawberry Mojitos. A mixologist greeted guests by making an exciting, handcrafted, artisanal cocktail that took the event to the next level. A cigar roller helped fill the air with allure by rolling cigars for the guests to enjoy. The DJ had the aura pulsating with hit songs throughout the evening as guests drank and mingled with one another. Adding to the Miami melting pot, we had a congo player perform, which added an experiential primality to the beats of the DJ.
The Americana Lawn was filled with glowing LED high-top tables and white lounge furniture, including a touch of brand activation by incorporating custom pillows with the client's logo-which created the perfect backdrop for the action and connection buzzing all around. Adding to the atmosphere was touch of luminescence… lights of red and blue placed around the boundary of the lawn to create a high-energy ambiance. Nothing could limit this event's energy. To fuel the fire we had to provide a truly gastronomic experience. Titillating treats included a huge paella pan with traditional seafood paella, a tacoria taco bar and a salad bar for those who enjoy the lighter side of dining. There were also avocado shooters, churrascaria carving stations, and a potpourri of desserts on display – including custom made "fire & ice" desserts created by the Loews' pastry chef.
When the energy could no longer be contained at the reception, the party moved into the Fire & Ice Lounge.   Migrating to Miami's only ice bar and fire lounge (www.sobefireice.com), guests were greeted by precious stones, radiant gems, and rare crystals from around the world. Fire dancers delighted the crowd with live interactive performances. To help cool things down, we added a custom ice sculpture with the company's logo (further enforcing the clients brand). Guests were also able to experience the renowned ice bar made up of a jaw-dropping 100,000 pounds of pristine ice embedded with genuine crystals.  This 23 degree ice bar was a feast for the eyes, set amongst stunning ice sculptures carved by award-winning master ice sculptor David Berman. This captivating space helped us provide a truly unique experience where guests could memorialize the experience with a snapshot inside the spellbinding ice cavern.  While sipping the finest vodkas from ice glassware, guests stayed warm with plush faux fur coats, gloves and lined slippers. As the night wound down, guests reflected upon the experience they had, connections they made, and graciously thanked their host for bringing them together for this once in a lifetime opportunity, wondering what excitement would in store for them the next evening….