Please note that the article below is a repost and the original post may be found on the Madovar website at: www.madovar.com/blogs/madovar-print/paragon
For thirty years, women-owned and globally operated Paragon Events has created luxury, world-class experiences for their international clientele.
Based in Delray Beach, Florida, the event management company ascribes to a creative, collaborative philosophy that drives their agile team of event planners, association managers, and marketing experts. "Our approach includes a close partnership with our clients, to develop a specific vision that meets their goals and benchmarks," Marketing Manager
Jessica Zell
explains. "We are involved in every step of the planning process–from the initial strategy to budget management, graphic design, menu planning, and on-site activities–we plan everything with our clients' overall mission in mind."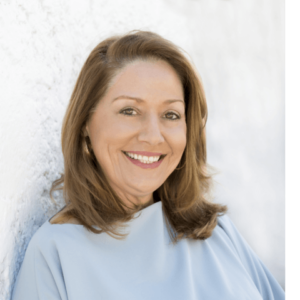 The philosophy behind the Paragon Events process goes beyond project management–they see every client's needs as an opportunity to incorporate value-add elements that celebrate both the company and the destination. Paragon Events' Founder, President &
CEO Renee Radabaugh
, CMP began her career in the hospitality industry, specializing in culinary arts and floral decor. In a serendipitous encounter, Renee was first introduced to husband Ron Radabaugh, when he was brought in as an executive chef for a hotel opening following a major renovation. The collaboration led to the opening of their own restaurant
Dakotah 624
, which ultimately inspired them to cater specifically to the events industry. According to Jessica, the combined talents of Renee and Ron contribute to the company's cutting-edge and consistently drive team members to "look for ways to go beyond the traditional." Last year, the company was seeking additional ways to elevate their incentive trips and the 'art of the invitation' through a custom welcome gift. Within the general corporate sphere, brand activation welcome gifts can often be generic and lackluster; however, personalization is a key element for Paragon Events. For their education-technology client's Costa Rican-bound meeting, which initiated their partnership with Madovar, the team wanted to get attendees excited about the trip with a branded package of meaningful items.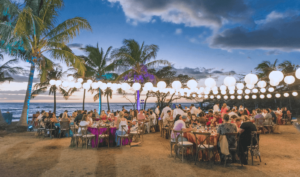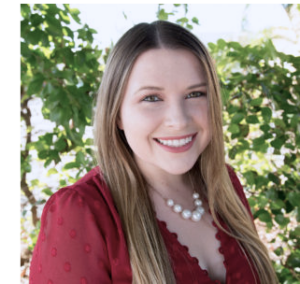 "We are all about first impressions," Jessica emphasizes, "And there is nothing special about opening a box with a bunch of contents floating around." Paragon Events' Manager of
Meetings & Events
Katherine Stokoe
began researching online for a creative partner for this brand activation. She came across Madovar, another family-owned and operated business. "Our experience with Madovar really impressed the client, so we decided that for 2019, we wanted to take it a step further with a designed box that was even more impactful." For this year's annual performance meeting, Paragon Events conceptualized a "Bound for the Bahamas" box, which was then shipped out two weeks prior to the 150 attendees. "We simply sent over artwork [to Madovar], and they sent us a virtual box to fully visualize the product. They understood exactly what we wanted–to make it seem as if you were receiving a glimpse of Bahamas before opening it."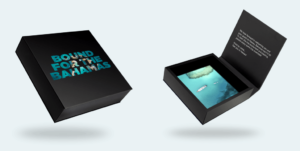 The idyllic island imagery ultimately connected the outside of the box to the items inside, which included: a microfiber towel, a 'know-before-you-go' trip guide, water resistant backpack, Sun Bum kit, and a branded luggage tag. "Every element of the design was tied together to give [the attendees] a taste of what was to come."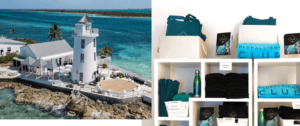 In today's digital era, almost anyone can purchase a gift for any given occasion. The real challenge is curating a group of gifts that appeal to every interest. When creating these welcome packages, Paragon Events carefully selects a collection of bespoke products, offering the highest quality and craftsmanship to their clients. The company reimagines local sentiments and handmade pieces into an expertly bundled presentation. Simply stated, Renee shares that "the Madovar boxes help to tell the story of the bespoke gifts, which continue to speak for themselves long after the trip takes place."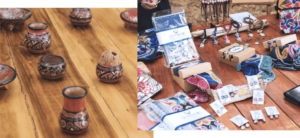 Through their collaboration with Madovar, Paragon Events is able to create a product that also speaks to the level of specialized services and dedication they bring to all of their clients.
In developing a one-of-a-kind, custom package that showcased the client and the trip, Jessica insists that it "created both a solution and an experience, adding an extra touch of brand recognition, all of which made the client feel elevated in the marketplace." She notes that the box could also be used as a trip keepsake or a conversation piece proudly displayed in a company sales rep's office. "When we completed a post-event analysis with the client, they were very appreciative and amazed that we realized their vision by making the package so meaningful to their brand and the destination." But their partnership with Madovar did not end with the welcome gift. "We also wanted to tie together the anticipation of the trip with the satisfaction of the experience after they returned home. We asked Madovar to design a box for the awards that they were being honored with, to then be shipped to their homes and offices following the trip." This extra touch was especially important to get right–Jessica and her team wanted the award to fit perfectly in the box, so that it would offer a special presentation once opened. "I was impressed by how seamless the company awards fit in the custom box inserts and how they transported smoothly because they were so nicely placed. The client was very impressed too."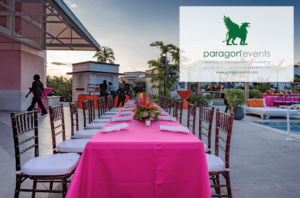 Jessica insists that her team is never short of ideas when it comes to collaborations with Madovar. For another project centered on a trip to Kyoto, Japan, Paragon Events envisioned a tech-inspired, Japanese-themed box that had the multi-purpose use of holding the company's featured products, such as mobile chargers and data storage devices, while also serving as a culturally-inspired art piece. "I am always researching promo products, signage, printed items for our clients–Madovar supports our creative process to zone in on a particular item and make it meaningful and valuable. In our ongoing collaborations with Madovar, we continue to draw inspiration–which is perhaps the most rewarding part of my job. The boxes really are innovative products, and I see endless opportunities ahead."