By Francesca Reicherter, Former Association Management Intern
According to recent studies, 62% of the most successful companies identify effective leadership as the most important factor in improving an organization's agility. For associations, the executive board and committee chairs are crucial to the prosperity of the institution. They work together to structure, organize, and carry out the mission of the organization. As an association management company, it is Paragon Events' responsibility to be knowledgeable on how to correctly build the leadership aptitude and membership base. To further enhance the leadership of these groups, you must prepare committee members, clearly define goals, and provide the right resources.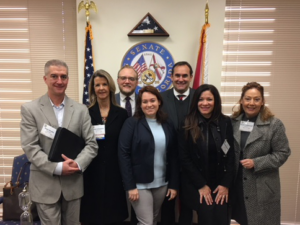 Here's how you can engage your organization and inspire action:
Invest a proper amount of time and energy into committee members in order to prepare them to become strong, knowledgeable leaders. By setting expectations ahead of time, this will allow you to determine who is fit for the position and who will maintain involvement. In addition, you will want to assign them to specific tasks in order to create a sense of ownership and increase their motivation to contribute.
Clearly define the goals of organization so that board members understand their role and the scope of their decision-making autonomy. All board members, especially those that are new to these leadership positions, will have to be groomed and educated on how to grow the organization. Consider hosting an annual strategic meeting at the beginning of the term to get everyone on the same page and ready to conquer.
Provide the resources that are essential for the board and committee members to be successful within their roles. Share historical data, distribute templates, and inform them of best practices. Intangible resources can also be provided through mentoring, networking, training, and workshops. There is no need to reinvent the wheel, but it is important that you set them up for success so that they can enhance processes and procedures.
Strong leaders are vital to the success of any organization. Leaders are able to see the bigger picture, be decisive and confident, prioritize what is truly important, and empower others. While there is a wealth of information on how to build successful leadership, it is important to keep in mind these three takeaways. Doing so will allow you to engage members and set the tone for advancement.
Paragon Events manages over 10 associations, including various Meeting Professionals International (MPI) chapters, the South East Florida Apartment Association (SEFAA), and the Association for Fundraising Professionals Greater Houston Chapter (AFPGHC). Each organization is managed through a unique approach that is tailored to meet specific goals and objectives. Our chapter administrators are supported by a full team of liaison, finance, membership, sponsorship, event, and marketing professionals – all within the headquarters of our office. We offer strategic solutions that save time, expense, and are inclusive of the small details.
To learn more on how Paragon Events can help elevate your organization, visit our Association Management services page here.